Main content starts here.
Takehisa Yumeji and the Arts and Crafts of the Taisho Period
18th April (Fri.) - 18th May (Sun.), 2014
Closed on Mondays (except for 5th May), 7th May
Admission Fee:
Adults: 300 yen , College students: 150 yen
Elementary / Junior high school / high school students: free
(Ticket for the Exhibition from Permanent Collection is available)
held in Gallery 3
The Taisho Period, following the Meiji Period and preceding the Showa Period, lasted only 15 years. However, despite its short length, it was a period of history that saw the rise of a new social class and the blossoming of a popular and liberated artistic culture known as Taisho romanticism.
It was in this period that Takehisa Yumeji gained recognition for his depictions of delicate and fragile women. The term "Yumeji-style beauty" came into use, attesting to his widespread popularity and standing as one of the representative painters of the Taisho Period.
The current exhibition contains about 30 pieces by Takehisa Yumeji from the museum collection, including oil paintings, nihonga (Japanese-style paintings), prints, and craftwork. Although these works from different genres may at first seem unrelated, they are all connected in that they were created during the Taisho Period, providing insight into this short but artistically productive period of history.

TAKEHISA Yumeji
At a Glass Wholesaler in Summer
1914
Amae / Shimada Collection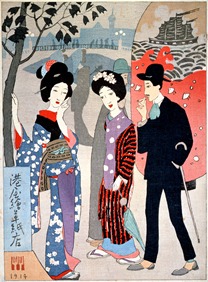 TAKEHISA Yumeji
MINATOYA Print Shop
1914
Amae / Shimada Collection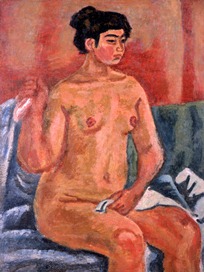 UMEHARA Ryuzaburo
Sitting Nude
1918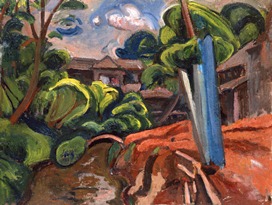 YOROZU Tetsugoro
Suburbs
ca.1918
ONCHI Koshiro
Study of Human Body
1924