Main content starts here.
Kaii Higashiyama Exhibition
22nd September (Sat.) - 11th Novermber (Sun.), 2012
* A part of the works will be replaced in the middle of session.
Part 1: 22nd September (Sat.) - 21st October (Sun.)
Part 2: 23rd October (Tue.) - 11th November (Sun.)
Closed on Mondays (except for 8th October), 9th October
Admission Fee:
Adults 1200 yen (1100 yen), College students 1000 yen (900 yen),
Elementary / Junior high school / high school students 500 yen (400 yen)
(Price in brackets indicate cost for groups of over 20)
Main Gallery
Exhibition Room 3・4
Higashiyama Kaii (1908-1999) was born in Yokohama and studied nihonga at Tokyo Fine Arts School (the present Tokyo University of the Arts). After studying in Germany for approximately two years, he was called up for the Pacific War and underwent an ordeal of one after another death of his relatives. Through such a period of suffering, he awakened to the beauty of landscapes. After the war, he presented many master landscapes mainly at the Nitten exhibitions.
He was awarded the Japan Art Academy Prize in 1956 and the Order of Cultural Merit in 1969, leaving a monumental mark on the world of nihonga. His world of art, which is created through serious confrontation with nature and profound contemplation, continues to be highly appreciated today, even though it is more than ten years since he passed away, as a universality reflecting the Japanese view of nature and the people's feelings.
Beginning with rare works from his student days and extending to his later years, the current exhibition consists of carefully selected examples such as the postwar works through which he established fame as a landscape artist, European landscapes, a series of paintings portraying the four seasons in Kyoto rich in atmosphere, and works which led to the paintings on the walls and fusuma (sliding doors) of Toshodaiji. Through these works, we have endeavored to trace the artistic achievements of Higashiyama Kaii, who is celebrated as a national artist representing postwar Japan, and present his aesthetic world.
Painting Image
"Afterglow"1947
TheNationalMuseumofModernArt,Tokyo
*ExhibitedonlyinPart1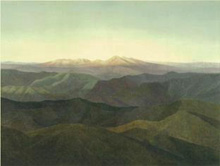 "Twilight"1955
TheJapanArtAcademy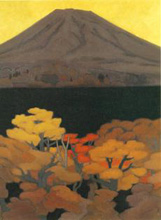 "GreenEchoes"1960
TheNationalMuseumofModernArt,Tokyo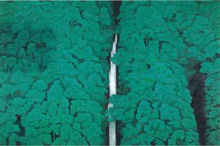 "ReflectedImages"1962
TheNationalMuseumofModernArt,Tokyo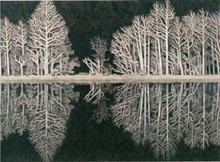 "BrightCherryBlossoms"1968
DaiwaSecuritiesGroupInc.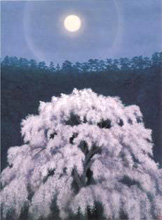 "EveningBell"1971
TheKitazawaMuseumofArt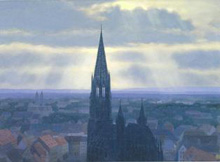 "SongofSilence"1981
NaganoPrefecturalShinanoArtMuseum
HigashiyamaKaiiGallery
*ExhibitedonlyinPart2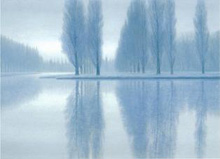 "VibrantGreen"1982
NaganoPrefecturalShinanoArtMuseum
HigashiyamaKaiiGallery
*ExhibitedonlyinPart2