Main content starts here.
Communication: Visualizing the Human Connection in the Age of Vermeer
27th October (Thu.) - 12th December (Mon.), 2011
Opened everyday in this period
Admission Fee:
Adults 1500 yen (1400 yen), College students 1300 yen (1200 yen),
Elementary/Junior high school/high school students 800 yen (700 yen)
(Price in brackets indicate cost for groups of over 20)
Main Gallery
Exhibition Room 3・4
The fascination of Johannes Vermeer never seems to be exhausted. We present an exhibition composed of three masterpieces by the painter and exquisite interior paintings by his contemporaries, with which he led the Golden Age of 17th century Dutch painting. We hope to delineate the ways of communication in 17th century Netherlands through the exhibition.
Concerning communication via letters, Vermeer's works preciously demonstrate them in actual use. As six Vermeer's paintings that represent letters are known to exist, this particular way of communication must have been something special to the artist. We show three of them here together. We hope to unveil Vermeer's unknown charm viewing these works from a fresh and profound perspective of letter communication.
Painting Image
Johannes VERMEER
"Girl Reading a Letter"
ca. 1663-64
©Rijksmuseum, Amsterdam.
On loan from the City of Amsterdam (A. van der Hoop Bequest)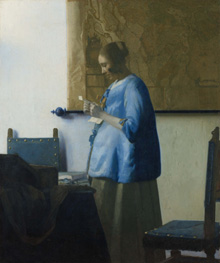 Johannes VERMEER
"A Lady Writing"
ca. 1665
©National Gallery of Art, Washington, Gift of Harry Waldron Havemeyer and Horace Havemeyer, Jr., in memory of their father, Horace Havemeyer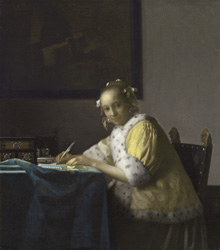 Jonannes VERMEER
"Woman Writing a Letter with her Maid"
ca.1670
Sir Alfred and Lady Beit Gift, 1987
National Gallery of Ireland Collection
Photos © National Gallery of Ireland.
Photographer: Roy Hewson