Main content starts here.
In the Age of Klee and Kandinsky
From The Miyagi Museum of Art
and Utsunomiya Museum of Art Collections
14th January (Sat.) - 4th March (Sun.), 2012
Closed on Mondays
Admission Fee :
Adults 1000 yen (900 yen), College students 800 yen (700 yen),
Elementary / Junior high school / high school students 300 yen (200 yen)
(Price in brackets indicate cost for groups of over 20)
Main Gallery
Exhibition Room 3・4
Paul Klee (1879-1940) and Wassily Kandinsky (1866-1944) were two of the major artists of the 20th century. This exhibition focuses on the oeuvre of these two artists as it presents an overview of the arts of the German-speaking regions in the first half of the 20th century, from Jungenstil to Expressionism and on to the Bauhaus movement, as seen in works from the Miyagi Museum of Art and the Utsunomiya Museum of Art collections.
This year marks the 30th anniversary of the founding of the Miyagi Museum of Art. Since the museum's opening, the non-Japanese art collection has focused on the works of German Expressionist artists, primarily those of Klee and Kandinsky. Similarly, the Utsunomiya Museum of Art, which will celebrate its 15th anniversary in 2012, has also assembled an important collection in the similar field, developing a broader range of materials collection that includes examples of product and graphic design.
This exhibition presents a happy combination of works from these two collections. The collaborative display of the major sections of each collection will provide visitors with a comprehensive introduction to Expressionism, Bauhaus and several other important artistic phenomena, all from the focal vantage point of Klee and Kandinsky. This might be a fruitful experiment in reconsidering from a single vantage point that these two collections assembled over many years.
Painting Image
Peter BEHRENS
Untitled(Kiss)
ca.1898
The Miyagi Museum of art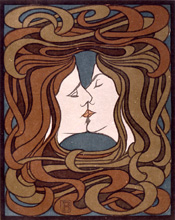 Wassily KANDINSKY
Study for Panel for Edwin R.Campbell No.4
1914
The Miyagi Museum of Art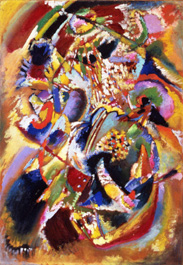 Paul KLEE
Three Arabs
1915
Utsunomiya Museum of Art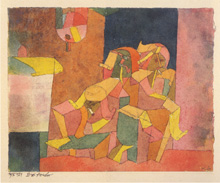 Wassily KANDINSKY
Hovering
1927
Utsunomiya Museum of Art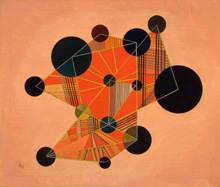 Paul KLEE
Palesio-Nua
1933
The Miyagi Museum of Art