Main content starts here.
Sunouchi Toru and Gendai Gallery
The Eye and Spirit of the Showa Period
2nd November (Sat.) - 23rd December (Mon.), 2013
Closed on Mondays (except for 4th November and 23rd December), 5th November
Admission Fee:
Adults 1,000 yen (900 yen), College students 800 yen (700 yen),
Elementary / Junior high school / high school students 300 yen (200 yen)
(Price in brackets indicate cost for groups of over 20)
Main Gallery
Exhibition Room 3・4
2013 marks the centennial of the birth of Sunouchi Toru (1913-1987), who is known as a writer, gallery owner, art collector, art critic, and writer of essays on art.
Sunouchi was born in Matsuyama, Ehime. While a student, he took part in a leftist movement and got expelled from the school. During the war, he was commissioned by the army to go to china. After returning to Japan, he began writing novels and was nominated for the Akutagawa Prize three times, but never won it.
In 1959, he joined Gendai Gallery, an art gallery run by Tamura Taijiro (1911-1983). In 1961, he took over the management of the gallery and introduced many artists with marked individuality. The series of essays entitled "Kimagure Bijutsukan", which appeared in the art magazine Geijutsu Shincho for fourteen years from 1974, was known for its unique narrative and gained many zealous readers. Tracing his career, we can tell that he was a person who ran through the Showa period with an eye and spirit of his own.
The works Sunouchi kept with him to the very end and remained in his possession after his death are now kept in The Miyagi Museum of Art as "The Sunouchi Collection". In the current exhibition, in addition to more than half of the works in this collection, there are works mentioned in his writings, works related to the early years of Gendai Gallery, and works by artists who exhibited at the exhibitions held at the gallery after Sunouchi took over the business.
Including works that Sunouchi handled and those typical of the artist, there are altogether approximately 190 works. Through these works and a variety of related materials, we hope to be able to reexamine Sunouchi Toru's involvement with art. By tracing the achievements of a man who lived during and after the war, we should also be able to catch a glimpse of the process through which a new image of modern art history was formed after the war.
Chapter 1 : The Early Years at Gendai Gallery
Karel APPEL, Franco ASSETTO, YOSHIHARA Jiro, DOMOTO Hisao
Chapter 2 : Artists Rediscovered by Sunouchi
AI-MITSU, SATO Tetsuzo, HAYASHI Shizue, FUJIMAKI Yoshio, MATSUMOTO Shunsuke, YOSHIOKA Ken, YOROZU Tetsugoro, SATO Seizaburo, UENOYAMA Kiyotsugu, ONO Kokichi, HASEGAWA Rinjiro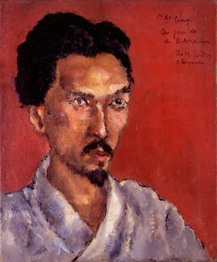 HAYASHI Shizue "Mr.O on the Day He Was Released from Prison"
1919, Nagano Prefectural Shinano Art Museum

FUJIMAKI Yoshio "Scenes from the Sumidagawa River No.2" (detail)
Museum of Contemporary Art Tokyo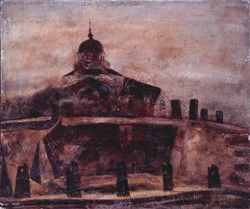 MATSUMOTO Shunduke "Nikolai Cathedral"
ca.1941, The Miyagi Museum of Art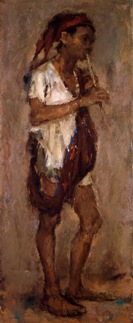 YOSHIOKA Ken "Piper"
1943, Shinano Drawing Museum
Chapter 3 : Gendai Gallery Artists
KITAMURA Satoru, KINOSHITA Susumu, SAKASHITA Koukichi, MATSUDA Shohei, MINEMURA Ristuko, MIYOSHI, MORITA Eiji, ONO Takao, TABATA Akirako, EBIHARA Tomotada, Mirjana MAODUS, Madhat KAKEI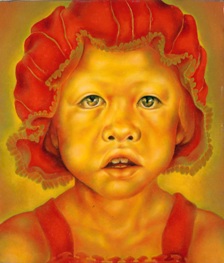 KINOSHITA Susumu "Reiko with a Red Cap"
1977, The Miyagi Museum of Art
Chapter 4 : Artists Connected to Sunouchi
SENGE Motomaro, CHO Yang Gyu, CHOKAI Seiji, HASEGAWA Toshiyuki, MURAYAMA Kaita, YOMODA Soen, TERADA Masaaki, ASO Saburo, IMANISHI Chutsu, EBIHARA Kinosuke, OKA Shikanosuke, KATO Taro, KOIZUMI Kiyoshi, NAKAMURA Tsune, NODA Hideo, ASAI Kan'emon, HAYASHI Takeshi, MAETA Kanji, HARA Seiichi, KIMURA Shohachi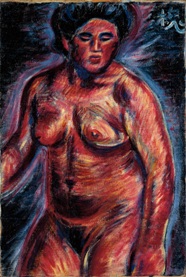 MURAYAMA Kaita "Female Nude"
1914-15, Kuma Art Museum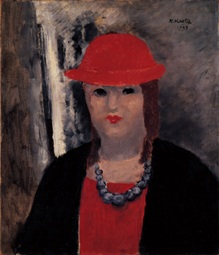 MAETA Kanji "Woman with a Red Hat"
1925, The Niigata Prefectural Museum of Modern Art
Chapter 5 : On Matsuyama
KOMODA Morisuke, KOMODA Kimio, ITAMI Mansaku, SHIGEMATSU Tsurunosuke, YANASE Masamu, MORI Takashige, OKAMOTO Tetsushiro, MIWADA Shunsuke, TANAKA Tanzo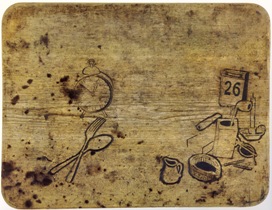 KOMODA Morisuke "Como's Table"
Private Collection