Main content starts here.
Paul KLEE "Palésio Nua"
"Palésio Nua"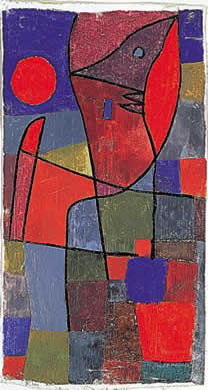 Paul KLEE (1879-1940)
1933, 50.4 x 27.0cm, Gouache on cotton, white grounded
A vertically-long, abstract picture of colored surfaces divided in various sizes.A sideways, unusual face-like figure emerges from the several, black, parting lines drawn around the upper portion of the painting, strikingly attracting the eyes of the viewer.
At first glance, this is a simple composition with one-colored surfaces in each section, partially surrounded by the drawn black lines. At a deeper look, viewers will realize that, in fact, Paul Klee painted this work, to a large degree, through an intricate, drawing process.
On this cotton, white grounded surface, Klee paints a large gray area and then paints overlapping layers of green and brown watercolors on this surface, thus becoming the origin of a multi-layered, colored surface technique. The dynamic, rhythmical feeling is present in this piece, through the creation of the abstract form and color combination.
The unusual name of "Palésio Nua" may have connections to Pales, the Roman patron goddess of shepherds and flocks, as well as overseeing fertility and health. In that sense, this piece also allows viewers to see Klee's creative interests in seeking a subject matter of myths and classics over a lifetime.