Main content starts here.
WATANABE Ryosuke "A Woman in the Shade of a Tree"
"A Woman in the Shade of a Tree"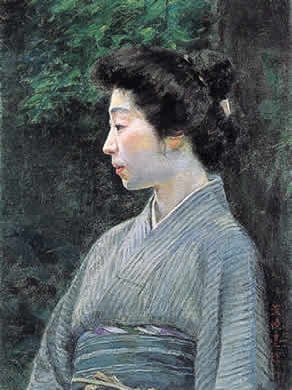 WATANABE Ryosuke (1880-1911)
1907, 60.8 x 45.8cm, Oil on canvas
Watanabe Ryosuke was born in Matsuyama-cho, Miyagi Pref. In 1899 he entered the Tokyo School of Fine Arts, and remained as a research fellow until 1905. There, he was taught by Kuroda Seiki, the introducer of French "outdoor" painting to Japan, and learned the style of the so-called "purple school"(new school) painters who adopted a brighter palette with extensive use of purple in their shadows as opposed to the "resin school" (old school) of the Meiji Bijutsu-Kai. Falling ill, he returned to his home in Miyagi and died at the age of 30.
Woman in the Shade of a Tree, along with Summer Morning, was one of the artist's two paintings to be accepted in the 1st Bunten exhibition sponsored by the government as a new annual art exhibition in 1907. Bathed in light filtered through the leaves, the woman portrayed by means of a bright palette delicately layered to achieve a mood of fresh dignity.