Main content starts here.
HIRAFUKU Hyakusui "Hunting"
"Hunting"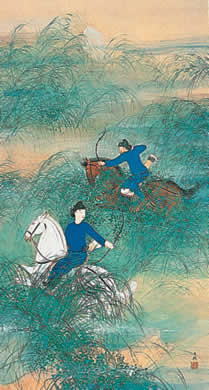 HIRAFUKU Hyakusui (1877-1933)
1920, 168.0 x 91.4cm, Color on paper, hanging scroll
Hirafuku Hyakusui was born in the town of Kakunodate, Akita Pref., in 1877. His father was the Nihon-ga painter Hirafuku Suian. After moving to Tokyo and studying under Kawabata Gyokusho, he participated in the forming of the Musei-kai group. In addition to being active in the Bun-ten and Tei-ten exhibitions, Hyaksui formed the Kinrei-sha group with Kaburagi Kiyokata and others in 1916. In 1932 he assumed a professorship at the Tokyo School of Fine Arts.
Hunting can be considered an homage to the Man'yo-shu by Hyakusui, who also made a name for himself as a poet of the Araragi school. Taking inspiration from a poem by Emperor Jomei about horses and a hunting party on a field of deep grass in the morning dew, Hyakusui first of all chose the setting of a fresh, cool morning with sparkling dew and a slanting moon still visible in the sky. As for the season, the fact that he chooses late summer instead of the rich harvest season of autumn is perhaps typical of Hyakusui's unique aesthetic sense. There, two courtiers are seen riding with drawn bows into a field of deep Japanese pampas grass, still green before coming to head.
This motif and its basic form were taken from the hairline engravings on a silver vase belonging to the Shoso-in. Undoubtedly he had Musashino painting and the "Autumn Grasses" painting tradition in mind as he created this work representative of his unique homage to the world of the Man'yo-shu poets. His style, however, departs from traditional standards by substituting refreshing purity for floweriness, tactile reality for decorativeness and spontaneity for carefulness.