Main content starts here.
ODAKE Chikuha "The Moisture of the Moon - the Heat of the Sun - the Chill of the Stars"
"The Moisture of the Moon - the Heat of the Sun - the Chill of the Stars"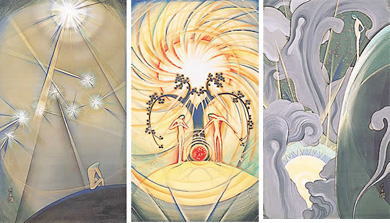 ODAKE Chikuha (1878-1936)
1920
right:143.7 x 83.6cm
center:143.8 x 83.7cm
left:144.0 x 83.6cm
Color on silk, a set of 3 hanging scrolls
Odake Chikuha was born in Niigata City in 1878. His life can be divided roughly into three periods. The first was the period in which he became a celebrated painter of historical themes in the early years of the Bun-ten Exhibition which started in 1907. The second was the period in which, prompted by the rejection of his works by the Bun-ten jury, he ran for the National Diet on the platform of reforming the repressive nature of that exhibition and, as a form of opposition to its successor, the Tei-ten, formed the Hakka-sha group and turned to a more avant-garde style. The third was the period when he became absorbed in detailed figurative representation in the early years of the Showa Period. This painting was shown at the first exhibition of the Hakka-sha in 1920. It is an unprecedented style of Nihon-ga for which it is difficult to find equivalents before or after.
What could be called a triptych of the heavenly bodies, the Moon occupies the right-hand scroll, the Sun the middle and the Stars the left. The way the light from the sun is painted as if radiating in a whirlwind pattern, seems to have something in common with the active expression of the Futurists as well as an aspect that suggests Christianity's Adam and Eve. Meanwhile, the figure at the left-hand edge (a disheartened youth?) looking much like an earthenware figurine, brings to mind the prints of Tanaka Kyokichi. Perhaps this work can be seen as something like a spark born of the reaction brought on by the blending of the cultural conditions of this period when Japan was suddenly flooded with European avant-garde art and thought and the anguish of Chikuha as an artist who had turned against the whole Japanese art establishment.