Main content starts here.
AI-MITSU "A Bird"
"A Bird"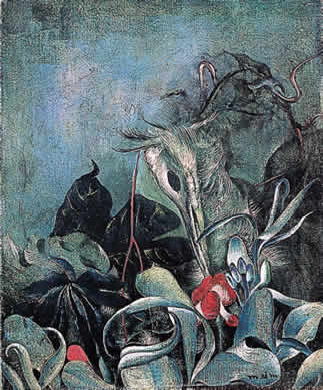 AI-MITSU (1907-1946)
1940, 45.4 x 37.9cm, The Sunouchi Collection
AI-MITSU was born in Hiroshima Prefecture under the name Ishimura Nichiro. Later he adopted the name Aikawa Mitsuro, which he finally shortened to AI-MITSU. He moved to Osaka in 1923 and began to study painting, but the following year he moved to Tokyo and began painting studies at the Taiheiyogakai Kenkyujo. In 1939 he helped form the Bijutsu Bunka Kyokai with other Surrealist style painters. In 1944 he was drafted into the army and was in China when the War ended. He died of malnutrition in Shanghai in 1946.
The foreground of A Bird is occupied by red flowers and thick-leafed plants, beyond which stand different plants. Encircled by these is a dead bird. The carcass can be seen to symbolize death and the lush plants life. But, the red veins that look both like the blood vessels of an animal and the vines of plants, confuse the distinction between the bird and the plants, thus creating a strange atmosphere in which life and death are united as one. Seeming to draw both on Surrealism and classical Chinese art, this painting represents a vision obtained by one artist in a time of war.