Main content starts here.
KOYAMA Shotaro "Landscape"
"Landscape"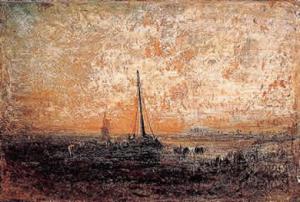 KOYAMA Shotaro (1857-1916)
1876-78, 58.0 x 85.0cm, Oil on canvas
Amid the subtle harmony of the brown color scheme appear just a few small spots of red and green, creating a fresh, natural expression with a unique softness within the overall tightness of the handling. This type of portrayal of nature with an expansive sense of air to the composition is a result of the influence of the Italian Antonio Fontanesi, a painter brought to Japan to teach painting at the Kobu Bijutsu Gakko in 1876 and whose style incorporated elements primarily of the Barbison School. Koyama was one of his students and we see from the inscription on the lower right that this work was painted during his studies under Fontanesi.
Koyama Shotaro was born in Nagaoka (present Nagaoka City, Niigata Pref.). After studying under Kawakami Togai and at the Kobu Bijutsu Gakko, Koyama participated in the forming of the Meiji Bijutsu-kai (Meiji Art Group) in 1889. He also excelled as a teacher of painting, helping to establish the foundations of Japan's modern era painting education. He also played a large role in raising many artists of the next generation at his private studio, Fudosha.