Main content starts here.
SATO Churyo "Man of Gunma"
"Man of Gunma"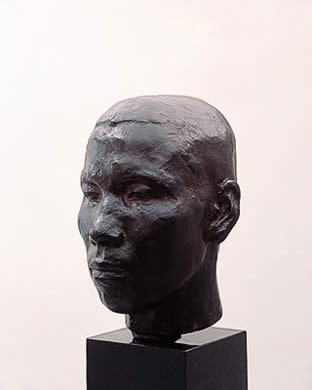 SATO, Churyo (1912-2011)
1952, 29.5 x 19 x 24cm, Bronze
Born in Miyagi Pref. Sato Churyo helped found the sculpture departmnt of Shinseisaku-ha Kyokai in 1939, shortly after graduating from the Tokyo School of Fine Arts. Since then his works had been shown in the exhibitions of this association. Sato is famous as a Japan's representative figurative sculptor and has received the distinction of being invited in 1981 to hold a solo exhibition at the Musée Rodin, Paris.
Sato had often met people from Gunma prefecture since childhood through the early postwar years, but it was meeting the Gunma-born poet Okamoto Takashi that finally led to the creation of this head sculpture. This work has generally been considered "the first example of a truly Japanese expression of a Japanese, by a Japanese". This is surely because it is a simple expression of the essence of a simple-hearted Japanese man off the street which has successfully shed the influence of European sculpture that was the starting point of modern Japanese sculpture. In this sense, prior to being the head of Okamoto or a man of Gunma, it is the head of a typical, symbolic Japanese man.