Main content starts here.
HAYAMI Gyoshu "Pigeon and Sparrows"
"Pigeon and Sparrows"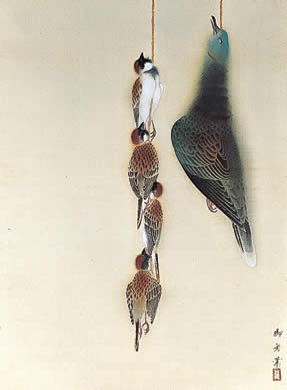 HAYAMI Gyoshu (1894-1935)
1927, 57.7 x 42.3cm, Color on silk, hanging scroll
Hayami Gyoshu was born in Tokyo. In 1908 at 14, he studied under Matsumoto Fuko and around 1911 joined the Koji-kai. In 1914 he showed his work in the first exhibition of the re-established Nihon Bijutsu-in and was recommended for the status of Friend of the Institution. In 1917 he became a full member and centered his artistic activities around its exhibitions thereafter.
Gyoshu did numerous sketches of a pigeon and sparrows hung by the neck with thin strings for this composition of a white-eyed pigeon with its body hung limp and the lifeless shells of four sparrows strung in a row. The result is a scene of once living creatures become mere matter, succumbing helplessly to gravity. The string bites deeply into the soft breast feathers of the uppermost sparrow with the weight of the other three. These dynamics cause the string to bend slightly to the left, creating what is certainly the focal point of the composition. Here is the epitome of cool observation and conception.
Takahashi Yuichi once painted salmon hung from a string. In that case his attention was focused fully on the appearance of the salmon itself. It seems, in contrast, that the reality Gyoshu shows is the starkness of death. Here is a painting that thrusts before the viewer the very absence of the life force which the Nihon-ga tradition has always celebrated in flower and bird motifs.