Main content starts here.
Higashiyama Kaii:The Mural Paintings in the Miei-do at Toshodaiji
*There is a possibility that this exhibition's schedule may be modified in order to prevent the spread of the COVID-19.
September 19 (Sat.) - Nobember 1 (Sun.), 2020
The elders of Toshodaiji Temple in Nara decided to construct the Miei-Do Hall to enshrine the Statue of Ganjin Wajo (national treasure) and entrusted the creation of the hall's murals and zushi-e (miniature shrine paintings) to HIGASHIYAMA Kaii (1908-1999). After receiving the request, HIGASHIYAMA accepted with the intention of dedicating his entire life to the project.
HIGASHIYAMA Kaii was an artist that greatly influenced the world of post-war Japanese painting with his numerous landscape paintings that are filled with clarity and lyricism. For this project, HIGASHIYAMA personally visited various locations in China and Japan to gather inspiration for his murals. The project eventually became a monumental work of art spanning five rooms that features depictions of sceneries from his travels – the creation of which took the longest amount of time to complete over the course of his life.
In this exhibition, all 68 of these murals, which are usually only exhibited for a few days in a year, will be displayed. These will be displayed together with sketches and drafts that reveal a creation process of over 10 years.
Hours : 9:30 a.m.-5 p.m. * Ticket counter closes at 16:30
Closed : Monday (except September 12), September 23(Wed.)
Ticket :
Adult 1,400 yen (1,200 yen)
Students 1,200 yen (1,000 yen)
Elementary school, Junior high school, High school students 700 yen (550 yen)
* ( ) indicates Advance ticket and Group ticket prices apply to groups of 20 or more.
[Advance ticket sales period] from July 18 until September 18 (Fri.), 2020
You can buy the advance ticket at these places : Ticket Pia (P Code:685-333), Lawson Ticket (L Code: 21497),Seven-Eleven Ticket, E-plus, Fujisaki, Mitsukoshi Sendai, NISSENREN Customer Center (AER 9F), NISSENREN Terrace (SELVA), Kahoku-shimpo shops, tbc website
Organized by :The Miyagi Museum of Art, KAHOKU SHIMPO PUBLISHING CO., TOHOKU BROADCASTING CO LTD,Nikkei Inc.
Sponsor : FUJITSU LIMITED
Nominal support : Sendai City Board of Education, Japan Broadcasting Corporation Sendai station, Sendai Television Incorporated, Miyagi Television Broadcasting, HIGASHI NIPPON BROADCASTING Co., Ltd., Sendai FM BROADCASTING, INC.
With the special cooperation of : Toshodaiji
With the cooperation of : Nagano Prefectural Shinano Art Museum / Higashiyama Kaii Gallery
Image of Works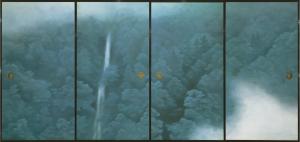 Mountain Clouds from "Toshodaiji Miei-do Murals" 1975 Toshodaiji

Sound of Waves from "Toshodaiji Miei-do Murals" 1975 Toshodaiji

Moonlit Evening in Guilin from "Toshodaiji Miei-do Murals"
1980 Toshodaiji

Huangshan Mountains in Morning Mist from "Toshodaiji Miei-do Murals"
1980 Toshodaiji